Pascal Aka's film 'Gold Coast Lounge' is leading the nominations for the 2019 Ghana Movie Awards.
The movie has a total of 18 mentions including Best Motion Picture and Discovery of the Year for musical acts Cina Soul and Raquel.
'Gold Coast Lounge' is an afro-noir film, set in the nightlife of post-independent Ghana. A crime family has to unite and clean up their act before the government shuts down their lucrative lounge.
After their leader is mysteriously poisoned, it is up to Daniel – the eldest – to take power. While struggling to implement his own policies, Daniel has to overcome power struggles, love-triangles, tribalism and a murder investigation.
The movie stars Alphonse Menyo, Adjetey Anang, Raquel Ammah, Zynnell Zuh, Pascal Aka, Cina Soul Akofa Edjeani, Gideon Boakye.
Coming in second is the star-studded cast movie 'Away Bus' produced under Kofas Media. The movie has a total of 15 mentions and the best actress score for Salma Mumin, the lead actress.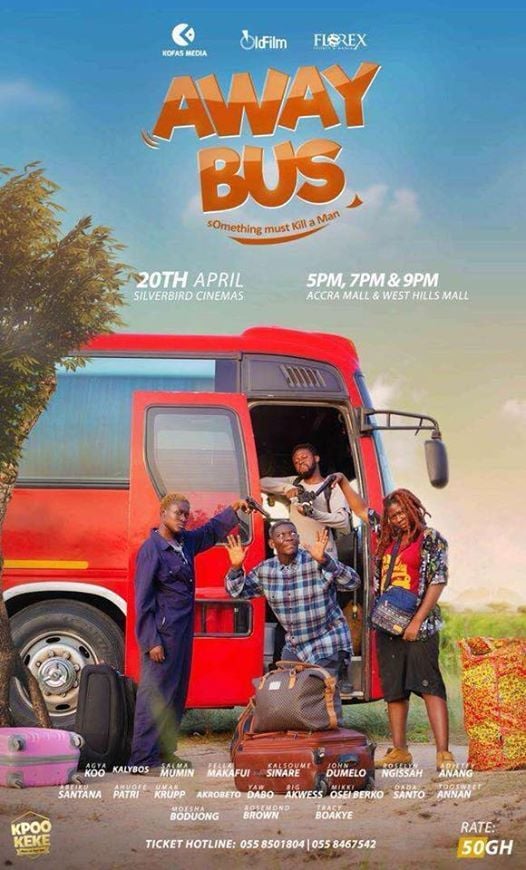 The 2019 Best Director category also features renowned film and television directors, Pascal Aka with 'Gold Coast Lounge', Pascal Amanfo with 'Business As Usual', Isaac Agyapong with 'A.B.A.D (Feats of Destiny)', Frank Rajah Arase with 'Getting Married' and Peter Sedufia and Kofi Asamoah with 'Away Bus'.
Although Yvonne Okoro, Nana Ama McBrown, Joselyn Dumas and Emelia Brobbey, are among the female names that did not secure a spot in the best actress category, they are contesting in the favourite actress line-up.
John Dumelo, Van Vicker and Majid Michel are among actors in the favourite actor line-up.
The event is slated to take place on December 20, at the National Theatre.
See the full list of nominees below:
ACHIEVEMENT IN CINEMATOGRAPHY (NOMINEES)
GOLD COAST LOUNGE BY ISREAL DE-LIKE
AWAY BUS BY KELLY DOE
B.A.D (FEATS OF DESTINY) BY BERNARD BENSON & DAVID OKAFOR
GETTING MARRIED BY WILLIAM SEFA NTIAMOAH
BUSINESS AS USUAL BY TOYIN ODEKOYA
ACHIEVEMENT IN COSTUMES AND WARDROBE (NOMINEES)
GOLD COAST LOUNGE BY VIVIAN ADJETEY
B.A.D (FEATS OF DESTINY) BY GORDON GALOLO
GETTING MARRIED BY SAMIRA YAKUBU & FAUZIA YAKUBU
AWAY BUS BY VENESSA NANA & AMA ODOOM
ACHIEVEMENT IN DIRECTING (NOMINEES)
GOLD COAST LOUNGEBY PASCAL AKA
B.A.D (FEATS OF DESTINY) BY ISAAC AGYAPONG
GETTING MARRIEDBY FRANK RAJAH ABASE
AWAY BUSBY PETER SEDUFIA and KOFI ASAMOAH
BUSINESS AS USUAL BY PASCAL AMANFO
ACHIEVEMENT IN EDITING (NOMINEES)
AWAY BUS BY AFRA MARLEY & PETER SEDUFIA
B.A.D (FEATS OF DESTINY) BY SOLOMON TAMAKLOEN and YAKO PRINCE OSEI
GOLD COAST LOUNGE BY KWEKU KACOU
SIN CITY BY KOBI OKYERE
GETTING MARRIED BY NICHOLAS AGBEKO
ACHIEVEMENT IN MAKEUP AND HAIRSTYLING (NOMINEES)
GETTING MARRIED BY MARIAM MUSAH
GOLD COAST LOUNGE BY FLORENCE OWOO
B.A.D (FEATS OF DESTINY) BY FREMPONG TAKYI BEA & PATIENCE MENSAH
AWAY BUS BY RHODA-LINE ANSONG & ANN MARIE DZADEY
ACHIEVEMENT IN MUSIC WRITTEN FOR A MOVIE (ORIGINAL SCORE) NOMINEES
GOLD COAST LOUNGE BY PASCAL AKA
B.A.D (FEATS OF DESTINY) BY GEORGE SEDZRO
GETTING MARRIED BY BERNI ANTI
BUSINESS AS USUAL BY KOBI OKYERE JR
AWAY BUS BY AFRA MARLEY
ACHIEVEMENT IN MUSIC WRITTEN FOR A MOVIE (ORIGINAL SONG) NOMINEES
MUSIC BY PASCAL AKA
LYRICS BY RAQUEL AMMAH
MUSIC AND LYRICS BY BERNI ANTI
MUSIC BY ENOCH BLEBOO
LYRICS BY SOLOMON OTOO
MUSIC AND LYRICS BY STEPHANIE BENSON
ACHIEVEMENT IN PRODUCTION DESIGN
PRODUCTION DESIGN BY JULIUS ELIKEM
SET DECORATION BY PROP HAVEN
PRODUCTION DESIGN BY GORDON GALOLO
SET DECORATION BY ROBERT AYIM
PRODUCTION DESIGN BY JAMES AVAALA
SET DECORATION BY HORLA MANUVOR
ACHIEVEMENT IN VISUAL EFFECTS
B.A.D (FEATS OF DESTINY) BY BRA CUOJO & JERRY DEBBAH
GOLD COAST LOUNGE BY PASCAL AKA
AWAY BUS BY PETER KOJO SAMPAH
ACHIEVEMENT IN WRITING ADAPTED OR ORIGINAL SCREEN PLAY
SCREEN PLAY BY PASCAL AKA
SCREEN PLAY BY FRANKQUOPHY AWUKU HANYABUI
SCREEN PLAY BY FOLAKE AMANFO
SCREEN PLAY BY SOLAKE AMANFO & RANDOLPH OBAH
SCREEN PLAY BY KOFI ASAMOAH, YAW TWUMASI AND PETER SEDUFIA
BEST ACTOR AFRICAN COLLABORATION
MIKE EZURUONYE IN TENDER LIES
JIDOLA DABO IN BUSINESS AS USUAL
KUNLE RENI IN SIN CITY
ALENNE MANGET IN BROKEN
FRANK ARTUS IN SHUKI
BEST ACTRESS AFRICAN COLLABORATION
SYNDY EMADE IN BROKEN
ROSE MEURER IN SIN CITY
UCHE JOMBO IN 40 LOOKS GOOD ON YOU
RUTH KADIRI EZERAKA IN TENDER LIES
BEST MOTION PICTURE OF THE YEAR
PRODUCER- ESI YEBOAH
PRODUCER- ISAAC AGYAPONG
PRODUCERS- ABDUL SALAM MUMUNI AND TONY RAMESH LACHMA
PRODUCER- PASCAL AMANFO & SELASSIE IBRAHIM
PRODUCER- SELASSIE IBRAHIM
PRODUCERS- KOFI ASAMOAH AND PETER SEDUFIA
PRODUCER- YVONNE NELSON
ADOMA
SALLAM MUMUNI
BEST MOVIE AFRICAN COLLABORATION
BROKEN BY SYNDY EMADE
TENDER LIES BY RUTH KADIRI
40 LOOKS GOOD ON YOU BY SELASSIE IBRAHIM
BEST SHORT MOVIE
NIRVANA BY WILLIAM KOJO AGBETI
ADA BY JAMES NARTEY
ELECTION BY JOHN AGBEKO
DISCOVERY OF THE YEAR
RAQUEL AMMAH IN GOLD COAST LOUNGE
CINA SOUL IN GOLD COAST LOUNGE
OPHELIA DOEFIA IN SAVE THE STREET
FLORENCE ADJEI IN ADOMA
ROSY MEURER IN SIN CITY
QUASI BLAY IN ADOMA
FAVORITE ACTOR
VAN VICKER
MAJID MICHEL
JOHN DUMELO
PRINCE DAVID OSEI
JAMES GARDINER
KWADWO NKANSAH (LIL WIN)
KOFI ADU (AGYA KOO)
RICHARD ASHANTI (KALYBOS)
JUSTICE HYMS (GHANA JESUS)
AKWASI BOADI (AKROBETO)
KWAKU MANU
BENSON NANAYAW ODURO BOATENG (FUNNY FACE)
FAVORITE ACTRESS
JOSELYN DUMAS
NANA AMA MACBROWN
JACKIE APPIAH
YVONNE NELSON
YVONNE OKORO
FELA MAKAFUI
LYDIA FORSON
JULIET IBRAHIM
NADIA BUARI
EMELIA BROBBEY
MOESHA BODUONG
MAAME SERWAA
PERFORMANCE BY AN ACTOR IN A SUPPORTING ROLE
JEFFERY NORTEY IN ADOMA
UMAR KRUPP IN AWAY BUS
ADJETEY ANNAG IN GOLD COAST LOUNGE
KOFI ADU IN AWAY BUS
PRINCE DAVID OSEI IN A.B.A.D (FEATS OF DESTINY)
PERFORMANCE BY AN ACTOR IN A LEADING ROLE
ALPHONSE MENYO IN GOLD COAST LOUNGE
KOFI ADJORLOLO IN A.B.A.D (FEATS OF DESTINY)
JAMES GARDINER IN BUSINESS AS USUAL
MIKKI OSEI BERKO IN AWAY BUS
QUASI BLAY IN ADOMA
PERFORMANCE BY AN ACTRESS IN A SUPPORTING ROLE
JESSICA WILLIAMS IN A.B.A.D (FEATS OF DESTINY)
FELLA MAKAFUI IN AWAY BUS
KALSOUME SINARE IN GETTING MARRIED
FLORENCE ADJEI IN ADOMA
ZYNNELL ZUH IN GOLD COAST LOUNGE
PERFORMANCE BY AN ACTRESS IN THE LEADING ROLE
RAQUEL AMMA IN GOLD COAST LOUNGE
NADIA BUARI
JACKIE APPIAH
LYDIA FORSON
CHRISTABEL EKEH (GETTING MARRIED)
YVONNE NELSON IN SIN CITY
SALMA MUMIN IN AWAY BUS
SELASSIE IBRAHIM
UCHE JOMBO
ROSELYN NGISSAH
STEPHENIE BENSON
SHASSY BELLO (40 LOOKS GOOD ON YOU)
LEAD ACTOR IN COMEDY SERIES
1. SAMUEL DABO – PA2PA- UTV
2. RICHARD ASANTE (KALYBOS) – NOKO FIO- UTV
3. ABRAHIM DAVIS (SALINKO) – THE PREACHER- UTV
4. KWAKU MANU – OH PROF- MAX TV
5. FUNNY FACE –  KASOA TROTRO- UTV
LEAD ACTRESS IN A COMEDY SERIES
1. AMA ODUMA ODUM –  THE PREACHER- UTV
2. DANIELA OBOI – PA2PA- UTV
3. SALMA MUMIN – NOKO FIO- UTV
4. LOUISA ADINKRA – OH PROF- MAX TV
5. ESI DUFIE BOATENG – KASOA TROTRO- UTV
SUPPORTING ACTOR IN A COMEDY SERIES
1. BIG AKWAS – PA2PA- UTV
2. COMEDIAN HOGAN – NOKO FIO- UTV
3. JUSTICE HYMS (GHANA JESUS) – THE PREACHER-UTV
4. ALEX ODURA – OH PROF- MAX TV
5. BISMARK ODOI – COW AND CHICKEN- UTV
6 SAMUEL YAW DABO – PAPA KUMASI
SUPPORTING ACTRESS IN A COMEDY SERIES
1. TINA GREEN – THE PREACHER- UTV
2. NAA YAA – PA2PA-UTV
3. NANA AMA MCBROWN – NOKO FIO- UTV
4. MAAME SERWAA – OH PROF- MAX TV
5. LINA OWUSU –  KASOA TROTRO
LEAD ACTOR IN DRAMA SERIES
1. VAN VICKER –  STALEMATE- JOY PRIME
2. JEFFERY FORSON – DEJA VU- JOY PRIME
    BELOW BLACKSON
    PRINCE DAVID OSEI
3. SAMUEL DEGRAFT YEBOAH – SEARCHING FOR WIFE (UTV
4. JOHN PENSAH (DROGBA), KELVIN BRUNN(MARK ANTHONY), DELOVE AUGUSTT (ODENKYEM) – YOLO-TV3
7.MOSES EDWARDS – SADIA- TV3
LEAD ACTRESS IN A DRAMA SERIES
1.RUTH YEBOAH – SADIA- TV3
2.LOUIS BUABENG – SILVER AND GOLD- TV3
3.EVENLY ADDO –  DEJA VU- JOY PRIME
4.JASMINE BARUDI
5.JESSICA LARYN
6.TRACEY BOAKYE – SEARCHING FOR WIFE- UTV
SUPPORTING ACTOR IN A DRAMA SERIES
1.ANTHONY WOODE – DEJA VU- JOY PRIME
2.ADJETEY ANNAG (PUSHER) – YOLO- TV3
3.SOLOMON SAMPAH –  STALEMATE- JOY PRIME
4.PAUL WILSON – SADIA- TV3
5.EMMANUEL LETSU – SILVER AND GOLD- TV3
SUPPORTING ACTRESS IN A DRAMA SERIES
1.ADINAM ATACHIE –  DEJA VU
2.JACKIE APPIAH – YOLO- TV3
3.REGINA VAN HELVERT – YOLO- TV3
4.SITSOFE TSIKOR – SADIA- TV3
5.SUSAN QUARCOO – SILVER AND GOLD- TV3
 6.ETTY DEDI(Yasmin) – YOLO-TV3
OUTSTANDING DRAMA SERIES
SADIA
STALEMATE
YOLO
SEARCHING FOR WIFE
SILVER AND GOLD
SOCIAL MEDIA STAR OF THE YEAR
VALENTINA NAA AGYEIWAA (@Queenafiaschwarzenegger)
IDRIS FIRDAUS (@Shatta_bandle)
EBENEZER FORSON (@eb_forson)
PATRICK MENSAH (@eventuarygh)
PAMELA ODAME WATARA (@Iamnaturalpam)
MONA MONTRAGE (hajia4reall)
MOESHA BABIINOTI BUDUONG (@moeshaboduong)
ROSEMOND BROWN (@akuapem_poloo)
MICHAEL OWUSU AFRIYIE (@teacher_kwadwo)
JUSTICE HYMNS (GHANA JESUS) (@official_mmebusem)
NANA MIREKU (@nanamadeinchina)
EMIL WOOD (@kingnanatonado)
MAAME ESI FORSON (@mizz_esi)
SADIK SULLEY (@sdkdele)
WARIS ABDUL UMARU (@comedianwaris)
OUTSTANDING VARIETY TALK SHOW
REVEALED WITH BOLA RAY- GHONE
MCBROWNS KITCHEN WITH NANA AMA MCBROWN- UTV
THE PREMIERES WITH SELLY GALLEY- JOY PRIME
DO AHOMASO WITH AKUMAA MAMA ZIMBI- ADOMA
TALES FROM THE POWDER ROOM WITH SHIRLEY
TODAYS WOMAN WITH RENEE Q
OUTSTANDING FOREIGN SERIES
LAW OF LOVE- UTV
PART OF ME- JOY PRIME
SARAS- ADOM TV
TILL THE END OF TIME-TV3
ASINTADO- MAX TV
OUTSTANDING COMEDY SERIES
KASOA TROTRO – UTV 
BOYS ABR3 – UTV
PA2PA – UTV
NOKO FIO – UTV
OH PROF – MAX TV
CINEMATOGRAPHY
COW AND CHICKEN – KOFAS MEDIA
KASOA TROTRO – AMOS ANNIM KYEI
YOLO  – MICHAEL ESHUN
OH PROF – EMMANUEL KWATENG
DÉJÀ VU – WILLIAM SEFA NTIAMOAH
 OUTSTANDING MAKEUP AND HAIR-STYLING
DÉJÀ VU – MARIAM MUSAH
YOLO – AILDA ARTHUR, NANA SAI-LARYEA & HILLY HILLZ BEAUTY
KASOA TROTRO – SWAAGON ENTERTAINMENT
OUTSTANDING COSTUME AND WARDROBE
AKWASI AGYEMANG –  OH PROF
FAUZIA YAKUBU & SAMIRA YAKUBU – DÉJÀ VU
SYLVIA TETTEYFIO & MAUD AMOAH – YOLO
MRS BEATRICE OWUSU DAVIS – THE PREACHER
SWAAGON ENTERTAINMENT – KASOA TROTRO
OUTSTANDING DIRECTING
YOLO – IVAN QUASHIGAH
PA2PA – KOFI ASAMOAH
SAIDA – KWAKU DUA PREMPAH
OH PROF – JONES AGYEMANG
KASOA TROTRO – DANIEL KOFI EWUSIE
OUTSTANDING EDITING
KASOA TROTRO – AMO ANNIM KYEI
YOLO – TRACEY DECARD NELSON
OH PROF – KINGSMAN KYEI
SILVER AND GOLD – RAYMOND ASARE
PA2PA – KOFAS MEDIA
OUTSTANDING WRITING
1. SELASSIE YAO – YOLO
2.EDDIE SEDDOH JNR – SILVER AND GOLD
3.PA2PA – KOFI ASAMOAH
4.LAWRENCE ANDERSON – THE PREACHER
5. AWELE – KASOA TROTRO
Click here below to vote for actors in the categories opened for voting: