by André Schulz

1/28/2020 – Levon Aronian was conspicuously absent from the latest field in Wijk aan Zee, for the second year in a row. The four-time Tata Steel Masters winner was instead a guest of honour at the South African Youth Championships, which was held in Johannesburg with well over 2,000 young players. There he gave a simultaneous display on 107 boards and played blitz with all comers in Joubert Park. | Photos: Levon Aronian
---

Find the right combination! ChessBase 15 program + new Mega Database 2020 with 8 million games and more than 80,000 master analyses. Plus ChessBase Magazine (DVD + magazine) and CB Premium membership for 1 year!
9,000 kilometres from Wijk aan Zee
Levon Aronian was recently a guest of the South African Chess Federation in Johannesburg and opened the South African Youth Championships (SAJCC), making the ceremonial first move.
During his visit to South Africa's largest city (population over 2 million), the Armenian superstar grandmaster also gave a simultaneous display on a whopping 107 boards, while wearing an original Madiba shirt. These printed silk shirts from South African became famous worldwide in part thanks to Nelson Mandela elevated who wore them as the country's first black head of state in the 1990s.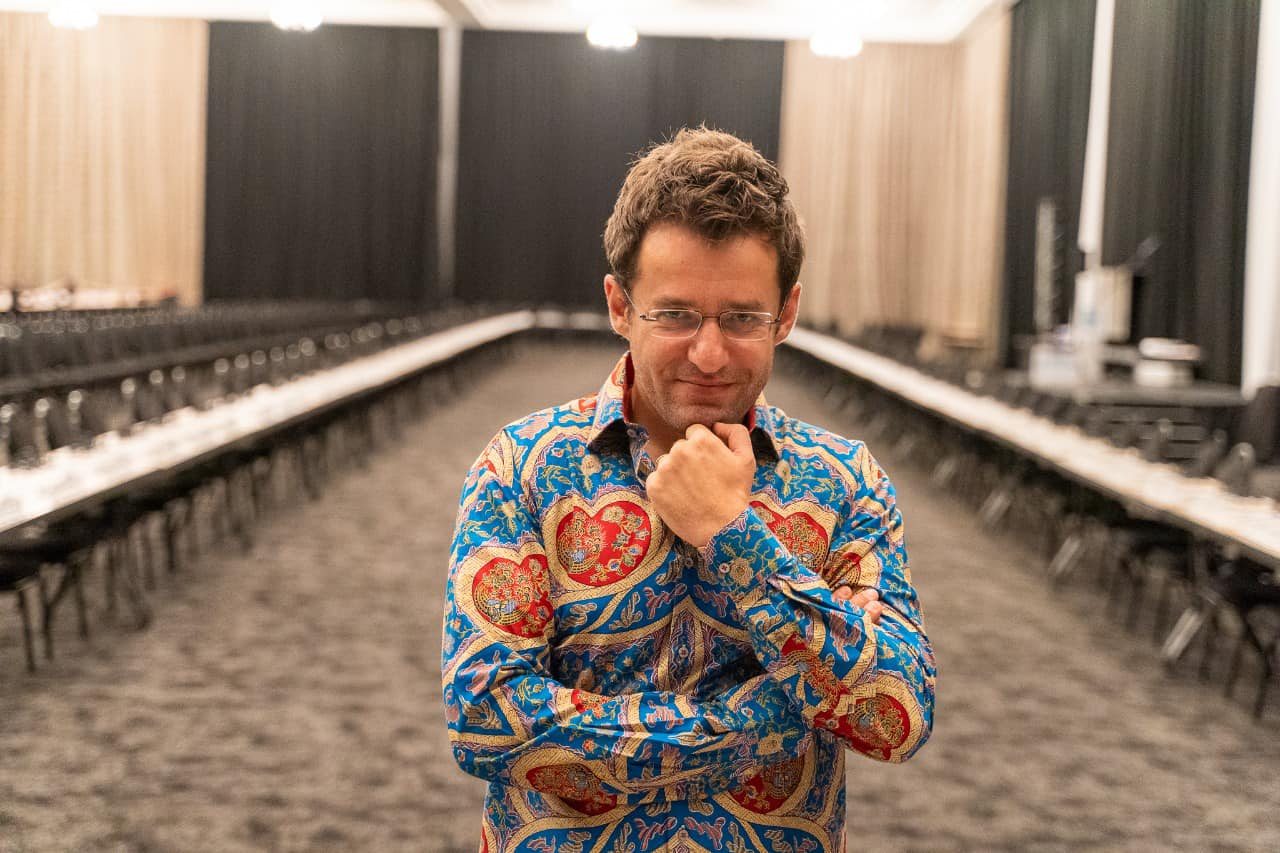 Levon Aronian
The South African Youth Championships was held from January 4th to 8th. In the team tournaments, regional teams of six to ten players in the age groups Under-8 to Under-20 competed. The individual championships, also held in a variety of different age groups, also offered qualification for the closed youth championship (SAJCCC).
The youth tournament of the South African Association has been running for 30 years. For the first time this year players were taking part from all over southern Africa. Over 2,200 young chess players and over 260 teams started. There were also 500 other visitors, trainers and supervisors. 
The venue was the Birchwood Hotel in Johannesburg: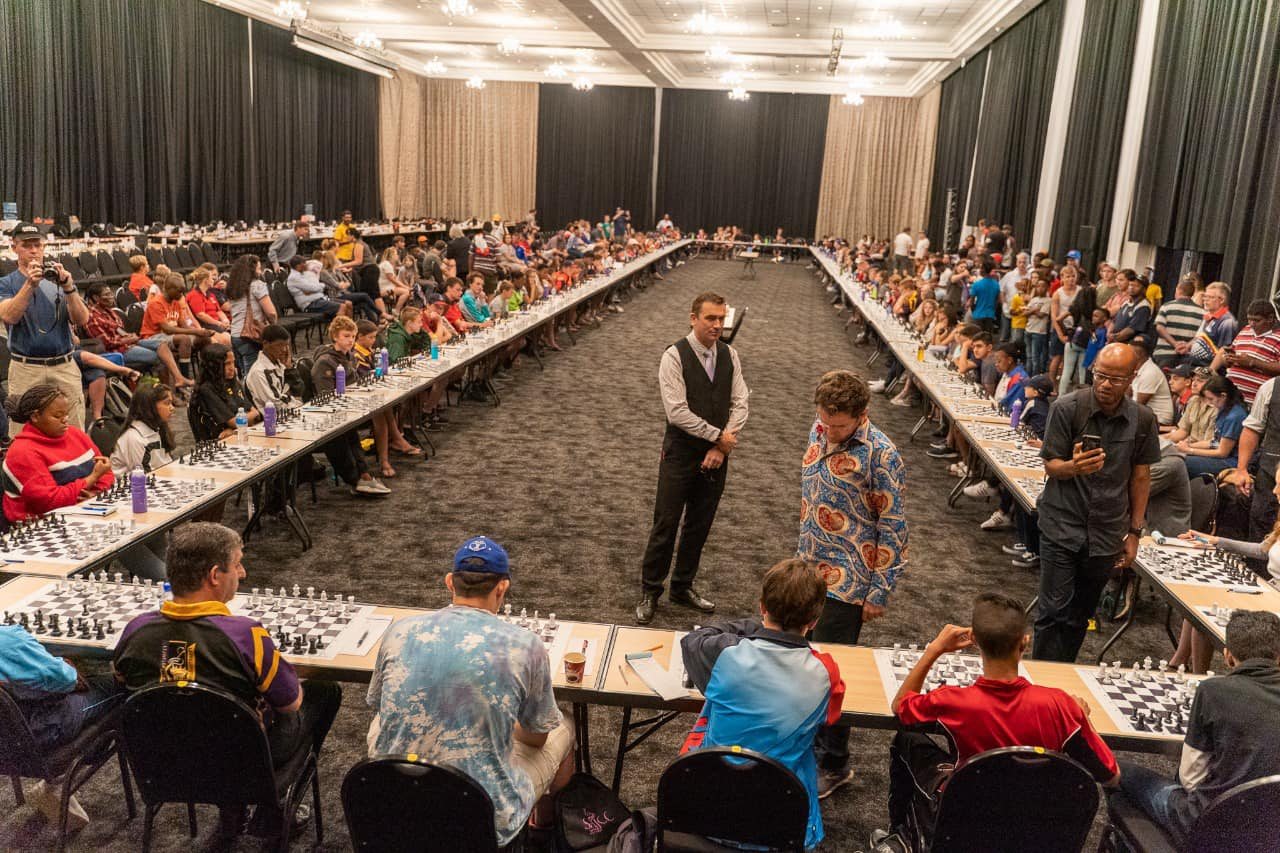 Aronian in simultaneous action
After the event, like Wesley So a year ago, Levon paid a visit to Joubert Park, where he lost to a local chess hero, but this time Simphiwe Buthelezi. Bruce Mubayiwa reported on the outing for African Chess Media:
As has become customary for any Grandmaster who officially opens the South African Junior Chess Championships (SAJCC), they have to make the trip to Joubert Park to face the players and the hustlers in Blitz. This year it was Super Chess Grandmaster Levon Aronian's turn after he officially opened the SAJCC tournament on Saturday.

The GM had accounted for everyone in the park and he was playing with odds of 50 seconds or 1 minute against 3 minutes. It was even reduced to 35 seconds when he was playing the ladies. He beat every single person he played in the park except one man, Simphiwe Buthelezi also known online as Simza.

I have never seen an untitled individual in chess play so confidently and be so composed against a Super Grandmaster. The way Simphiwe Buthelezi beat Grandmaster Levon Aronian at Joubert Park on a warm Sunday afternoon was just unreal. Where did this young man get his confidence and composure?
Even after the game when I interviewed Simza he was quite casual about it. He did not seem too excited. It seemed like just another day for him. Simza said in his game against the GM they had played an opening he was familiar with, the English Opening and he had essayed the Botvnnik Variation. The characteristic moves of the Botvinnik Variation include the Fianchetto and placing of white's King Bishop on the g2 square and a central e4 push by white in the Centre.

Did Simza really understand what he had just done? I was recording the whole thing and could not believe what I had just witnessed. The spectators went wild after the game.

It was the only game I saw the GM make a blunder and appear a bit flustered the whole time in the park. Everyone else had tried and failed in Joubert Park and all hope seemed lost.
Read the full account at AfricaChessMedia.com
Translation from German and additional reporting: Macauley Peterson
Links