General News of Tuesday, 4 February 2020
Source: peacefmonline.com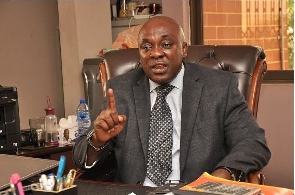 MP for Tema West constituency, Carlos Kingsley Ahenkorah
Member of Parliament [MP] for Tema West constituency, Carlos Kingsley Ahenkorah, says he now perfectly understands why the leadership of the National Democratic Congress [NDC] party does not want the former Deputy General Secretary, Koku Anyidoho close to the party.
"I now trust, cherish and understand some grievances of Koku Anyidoho against the party he has forever worked for with his blood," he said.
Pouring effusive praise on the one-time Communications Director at the Presidency during the erstwhile Mills/Mahama administration, the Tema West MP, contributing to discussions on UTV's 'Adekye Nsroma' political segment, if people could be fired for receiving farm animals and products as gifts, then justice should not only be served, but should manifestly be seen to be done.
"I believe Koku Anyidoho knew what was happening in the President John Evans Atta Mills administration, even at the time when he was sick, hence his everyday attacks on the persons around the president, especially his vice –President [ former President John Dramani Mahama] then.
"It was pathetic to hear a judge lose his job….some lost their lives while others were admitted for various life-threatening ailment for receiving a goat as a gift which turned out to be bribery scandal; yet it is only in this country that you can have a government official or a former president left to walk as a freeman for conducting himself in such a scandalous act," he added.