General News of Friday, 7 February 2020
Source: www.ghanaweb.com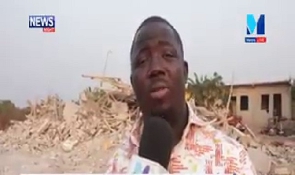 play videoFormer NDC Deputy Volta regional secretary, Mustapha Gbande
A former deputy regional secretary of the NDC in the Volta region, Mustapha Gbande has said he has been rendered traumatised after some security personnel stormed his residence and demolished it completely.
The men numbering about 30, who according to Mr. Gbande claimed to be from the special weapons and tactics unit of SWAT, arrived at his place of abode in pickups to tear it down.
He narrated to Metro TV that he had been living with his family in the house for the past four years.
He noted that the men claimed to have obtained a warrant to come and arrest him and breakdown his house. They further averred that Mr. Gbande had threatened to kill the complainant.
"…I've been living here with my family for the past 4 and half years… by the time I left the office to get to this place, they had pulled down the house. When I got here, the bulldozer was here, so I wanted to stop it. They actually came with land guards as well. The land guards came on me first, later followed by the police.
"They said I was under arrest and that they're holding an arrest warrant. They said the man said I had threatened to kill him…
"They took me to Adenta only to put me there, took the handcuff key back to the site and demolished my house with everything in there," he revealed.
He is, however, of the view that the action is politically motivated because the alleged accusation was supposedly made in February 2019.
Mustapha Gbande lamented at why he was not invited by the police or arrested if he indeed made the threats, he is being accused of making. A year after the supposed claim his house has been demolished illegally without recourse.
He named the Director of Operations at the Accra Regional Command, Chief Superintendent Kwesi Fori as masterminding the action against him.
"Kwesi Fori is the one who actually led this operation. I spoke to him in the morning. When I got wind of the thing, I called him, I said chief these are your people, tell them to wait because I've not been served…. He superintended this operation with one ASP Danso and another guy from striking force…"
He claimed that he didn't know that I was the one. Must you do this to any citizen, must this happen to any Ghanaian for that matter," he quizzed.
According to Metro TV's report, however, the police were acting on a 2013 court order, an action Mr. Gbande refuted knowledge of.