General News of Sunday, 9 February 2020
Source: Kwabena Danso-Dapaah, Contributor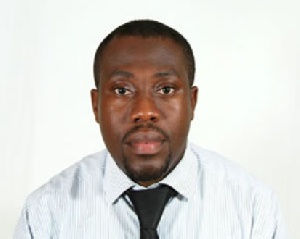 Dr Justice Yankson
A private legal practitioner, Dr Justice Yankson has admonished the general public especially professional to choose their words carefully to avoid possible lawsuit on the conversation of a bribery scandal involving Airbus, Europe's largest aerospace multinational, between former appointees under erstwhile Mills/Mahama regimes.
"If you are not careful, you may go to the realm of defamation if you think that the person you suspect and come out to say [something untrtu]", the General Secretary of the Ghana Medical Association (GMA) advised during panel discussion reporter, Kwabena Danso-Dapaah.
"As for politicians, on their political platforms they are allowed to say whoever they think it is and they may walk away [but] with us a professionals we cannot sit on a platform like this and say categorically that it is this person", Dr Justice Yankson told host, Newsfile, Samson Lardy Anyenini.
Reports of a bribery scandal emerged over the weekend citing Ghana, Malaysia, Sri Lanka, Indonesia, and Taiwan as destinations where Airbus, the largest aerospace multinational in Europe, admitted that it paid huge bribes in order to secure contracts.
In the case of Ghana, the operations were reported to have taken place between 2009 and 2015; during which period John Dramani Mahama served as Vice President and then later as President
Even though no name was mentioned in the UK Crown Court in Southwark's ruling, the NPP at a press conference, was categorical that government official 1 is Mahama and has, therefore, asked him to break his silence over the allegation.
However, On Monday [February 3, 2020], the ruling party called on former President John Dramani Mahama to respond to allegations that an individual close to a top government official was bribed by Airbus between 2011 and 2015 in the now-famous scandal. All Fingers Point To Mahama
Addressing a press conference in Accra, Mr Yaw Buabeng Asamoah, Communications Director for the NPP said "the companies used to receive the bribe money have been named. The shareholder who is very close to the former President has been named. Document falsification, kickbacks, lies and overpayments are what the Airbus scandal is all about. And it appears John Mahama is deeply involved."
Adding that, "he cannot continue to hide behind his party members including a former Attorney-General. Of course, we are all aware that he hates answering questions on corruption, but the answer he must, because at this moment, all fingers point to him and one of his brothers."