Business News of Sunday, 9 February 2020
Source: www.ghanaweb.com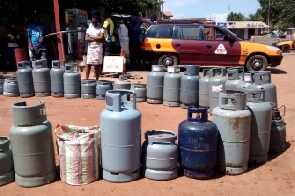 Cylinders queued for re-filling
The Chamber of Petroleum Consumers (COPEC) says rising cost of Liquefied Petroleum Gas(LPG) can halt government's effort to implement its Cylinder Re-circulation policy.
Ghana intends to roll out a policy aimed at getting more Ghanaians to use gas for domestic purposes.
Data from Chamber of Petroleum Consumers (COPEC) showed Liquefied Petroleum Gas (LPG) sold at GH ¢4.92 pesewas per kilogram in September last year but the current selling price has seen an increment.
Executive Director of COPEC, Duncan Amoah, told Citi Business News the rising cost of LPG will threaten government's bid to achieving a 50% national LPG penetration by 2030.
"For having a gas processor Ghanaians should be enjoying better LPG prices. If you look at the data, LPG prices have gone up by a minimum of 21 percent. Now we are mindful of the fact that government has an LPG promotion policy, which when realized will mean a cleaner environment due to an uptake of LPG. But the high prices are becoming a disincentive for people. So we think that the government must take a second look at the price build-up, the level of taxes on LPG, as well as the level of prices that Atuabo Gas Plant puts on the market."
The CEO of Anasset Company Limited, an LPG retailing company in Accra, Seth Nanemeh, also told Citi Business News the increasing cost of LPG has a rippling effect on both retailers and consumers.
"Certainly, we can't say this is good for the business, because our business is volume driven. We sell in volumes. But now our sales have also reduced drastically. From the stations, the consumers are complaining…because of the price hike, most people who come to the station buy what they can afford."
Some Ghanaians who rely on LPG for both domestic and commercial purposes also say a reduction in the price of the product will help them in many ways.
Last year, vice President Dr. Mahamudu Bawumia said significant progress had been made towards the pilot implementation of the Cylinder Recirculation Model under the National Liquefied Petroleum Gas Promotion Policy.
President Nana Akufo-Addo ordered the implementation of the cylinder re-circulation Model of LPG distribution in October 2017, following the public outcry in the wake of the massive explosion at an LPG filling station at Atomic Junction.