General News of Tuesday, 11 February 2020
Source: Graphic.com.gh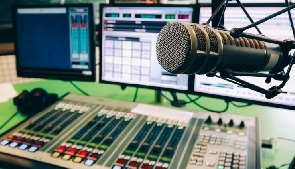 File Photo
UNESCO is calling on the government to prioritise promotion of freedom of expression, access to information and gender equality to improve networking and international cooperation between broadcasters.
The call comes at the period the UNESCO and non-governmental organisation Farm Radio International are gearing up for World Radio Day Forum scheduled for Thursday, 13 February 2020 in Accra.
Celebration of the World Radio Day marks the period the globe celebrate radio and how it shapes lives and public opinion.
The agenda is to create awareness among the public and media on the relevance of radio, whip up the interest of decision-makers to ease access to information through radio to enhance networking and international cooperation among broadcasters.
Speaking to Class News' Jerry Akornor ahead of World Radio Day Forum in Accra, UNESCO Ghana Office National Programme Officer Abdul Hamid Yakubu said: "Government should create an enabling environment for freedom of expression to make sure we live in a democratic space.
"At the top is the freedom of expression and that's the role of government, laws must be specifically made to empower people to be able to enjoy freedom of expression, access to information and gender equality".
This year's World Radio Day Forum focuses on diversity in the use of radio, categorised into advocating for pluralism in radio including a mix of public private and community broadcasters, encouraging presentation in the newsroom with teams comprised of diverse society groups, promote diversity of editorial content and programme types reflecting variety of audiences.
Meanwhile, Country Director of Farm Radio International Benjamin Fiafor said the government should scale-up granting of licenses to communities to expand the number of community radio stations in the country.
"How can the government ensure that when we talk about pluralism, Ghana has more community radio stations?", he quizzed.
He said: "Radio is a powerful medium for celebrating humanity and constitutes a platform for democratic discourse. At the global level, radio remains the most widely consumed medium. This unique ability to reach out to the widest audience means radio can shape a society's experience of diversity, stand as an arena for all voices to speak out, be represented and heard. Radio stations should serve diverse communities, offering a wide variety of programmes, viewpoints, content, and reflect the diversity of audiences in their organisations and operations."