media update's
Christine Beukes takes you through three websites that focus on positive news.
When it comes to news stories in South Africa, it's difficult to find any stories that are 'light-hearted' or even remotely uplifting. Everyone needs a silver lining, which is why good news websites have such a big impact on society.
Positive news has the ability to restore our faith in humanity, inspire us and allow ourselves to feel better about what's happening around us.
With that said, here are three websites that focus on the bright side of life:
Good Things Guy was launched by Brent Lindeque in August 2015 with the sole purpose of finding and reporting on 'good news' happening in South Africa, and around the world.
The news found on Good Things Guy aims "to change the national conversation and give South Africans a balance to the [bad/usual] news in South Africa".
It's hard enough listening to crime rates, car accidents, government mishaps and, let's not forget, all of the strikes — it's enough to make one feel heavy, which is why people turn to sites like this to equalise that feeling by taking a look at stories that are created to uplift them.
Just take, for example, this recent article published on Tuesday, 11 February. The article, titled South African Twitter thread keeps changing lives; the latest will leave you in tears!, reports on a Twitter thread started by Keabetswe Jan that went viral in January 2019. The initial Tweet read 'O Jewa Ke Eng?', which is Southern Sotho for 'What is eating you up?'.
Shortly after it was posted, people started sharing their own stories and experiences, and surprisingly, received a lot of positive feedback, with people offering to help where they could.
Get ready to have your spirits raised: "The latest [Tweet] is [by] student Bubu Sithole [who] tweeted that she was packing up her bags and heading home because she couldn't afford to reregister for her 2020 studies," reports the author of the article, Tyler Leigh Vivier.

Needless to say, people started to respond and Sithole even received help from local singer and songwriter Zonke.
Beautiful News is a content platform that offers "a counter-narrative told in films and photographs". Do we even have to say it? Because we will: The content is beautiful.
The platform, sponsored by Mercedes Benz, was started in November 2016 by the Ginkgo Agency and "seeks to provide a source of comfort, relief, and motivation" for South Africans in order to counter all the "news cycles dominated by disaster and despair".
It does this by showcasing films and photographs of the country that are a clear opposition to some of the awful things people see in the news on a daily basis.
Take, for instance, the below film that explores one of the oldest neighbourhoods in Cape Town, Bo-Kaap. The community has been around since the 1700s and is home to South Africa's oldest mosque, and several other wonders that will make you say "wow!".
Get ready to have your spirits raised: "Religion is the defining feature of this neighbourhood's identity. But it's the sumptuous meals, welcoming spirit of the community, and brightly-coloured houses that draw people from every corner of the world."
All it takes is one look at the film, and you will immediately be overwhelmed with a feeling of pride: Can you say 'Proudly South African?'
"We are an independent organisation, apolitical and with no agenda other than to source and publish good news about our beloved country."
Straight to the point, those are the words that South Africa: The Good News uses to describe itself — and it couldn't be more accurate!
This independent organisation offers readers the opportunity to look at blogs divided into specific categories on the website, meaning that, if you want to read positive news about a particular development in South Africa, you'll find it there!
From 'Agriculture & Land Reform' to 'Trade & Investment', this platform has it all!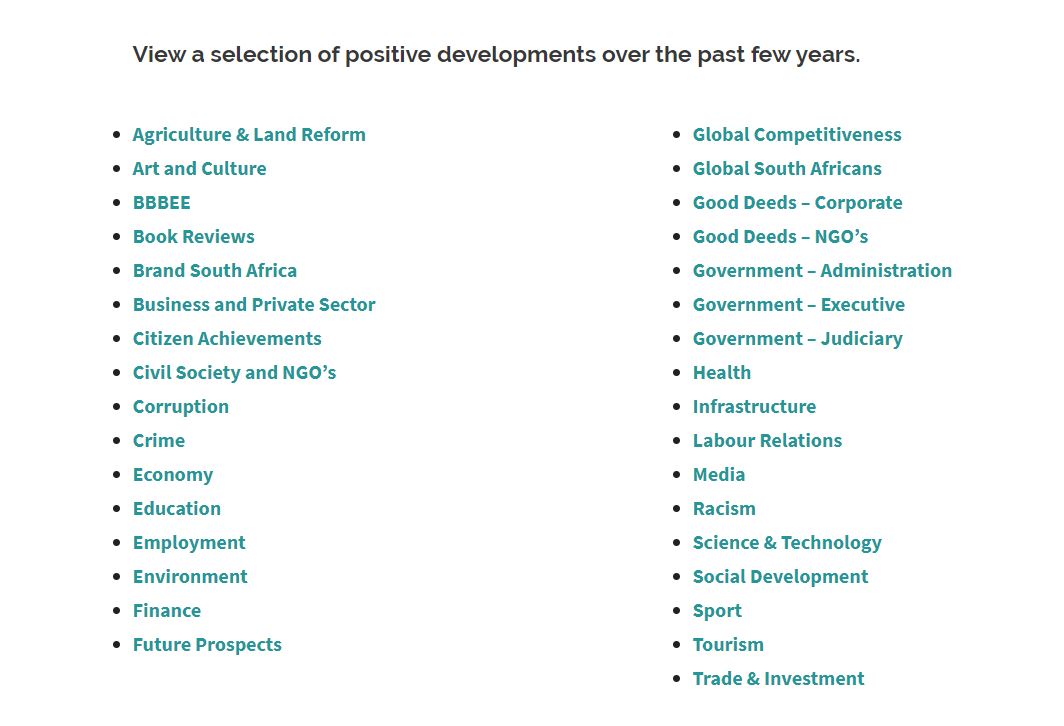 It even has some fast facts (updated yearly) that you never knew about our beloved country!
Get ready to have your spirits raised: For instance, did you know that "Five South Africans hold the world extreme swimming record for swimming 2.5kms around Cape Horn?" (Go, SA, go!)
How cool is that? The content is purely South African, and there's enough information to boggle your mind in the best possible way.
"We are well aware of the challenges that we [as South Africans] face and the extent of these challenges. We address these challenges full on, but we choose to concentrate on the solution, rather than the problem."
Is there another 'good news' website we may have missed? Let us know in the comments section below.
Wil jy op hoogte bly met die nuutste nuus en tendense? Maak seker om in te teken op ons gratis nuusbrief!
Love media update? Become a supporter! We love what we do, and it's only possible through the help of our loyal supporters. So, if you're enjoying our site and our content, you can now make a donation to help keep us up and running.
*Image courtesy of Vecteezy
Good news Positive news in South Africa South African news websites Good Things Guy Beautiful News South Africa: The Good News