General News of Friday, 21 February 2020
Source: www.ghanaweb.com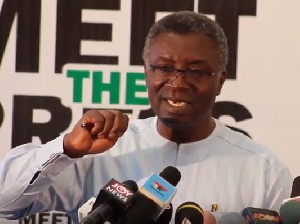 play videoProfessor Kwabena Frimpong-Boateng is Environment, Science, Technology and Innovation Minister
Environment, Science, Technology and Innovation Minister, Professor Kwabena Frimpong-Boateng has cleared the air about allegations levelled against his son in connection with some seized excavators.
The Member of Parliament for Assin Central, whilst speaking on Net 2 TV said a company linked to the son of Mr. Frimpong Boateng was involved in galamsey, with the knowledge of his father who pretended he was working at getting back some missing 500 excavators.
According to him, Jojo Frimpong Boateng (son), through Ekow Ewusi took custody of a number of seized excavators to use for his own mining activities at a time his father was said to be looking for the missing machines.
"How can you seize people's excavators for illegal mining and turn around to give it your son for his mining activities?" Kennedy Agyapong quizzed.
But addressing journalists after the President's State of the Nation Address Thursday, Prof. Frimpong Boateng maintained that his son is innocent.
"He is not involved in anything and the world will get to know soon" he said.

Meanwhile, the minister says he is clean and has nothing to do with any corruption allegations.
"Everything that I have done in this world is for Ghanaians. I have not done anything for myself. Look at me; I have not taken bribes before. I have not extorted money from anybody before. I have not done anything wrong before," he said.