Sports News of Wednesday, 26 February 2020
Source: www.ghanaweb.com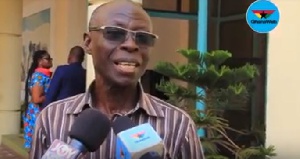 Technical Director of the GFA, Francis Oti Akenteng
Valley View University has recruited the services of the Technical Director of the GFA, Francis Oti Akenteng and his assistant Mas-ud Didi Dramani to serve as lecturers for its new sports course.
Oti Akenteng and Dramani will in the coming days share their enormous experience in the coaching field with young persons seeking careers in coaching, scouting and football agency.
The course which forms part of the University's commitment to the development of sports will see them equip people with knowledge in football management, intermediary, scouting, talent identification, Sports Marketing, Sports Public Relationship among others.
The short course will focus on providing knowledge in sports medicine, running a sports agency, physical education and many others.
Alongside the two highly-respected Ghanaian coaches are renowned sports lecturers and coaches from England and Spain.
Robert Munro, a sports lecturer with the Cambridge and Anglia Ruskin Universities and Russell Horsley an English FA instructor have confirmed their participation as instructors for the course.
A former England FA National Youth Football development manager will also mentor the students.
According to the university, forms for the highly discounted course can be purchased on its website.
There are special packages for members for all females & SHS students of age 17+, members of Ghana Coaches Association, Professional Players Association Ghana and other recognized groups.