Green Party leader Eamon Ryan has said that a 7% cut in carbon emissions every year is a pre-condition for talks on a programme for government.
Speaking on RTÉ's The Week in Politics, he said it is something that has to be stated before government formation talks with Fianna Fáil and Fine Gael. 
"This has to be clear from the start we have to have that baseline understanding because it is going to be challenging.
"I think it is going to be good for the country there will be opportunities in it, particularly the economic turnaround we have to make that's where a lot of the money is," he said. 
He said the glue this time was a Green new deal as a way out of the economic crisis. 
Mr Ryan said most political parties agree that this is one of the things that needs to be done and said politicians must be specific now in how they would set about doing it. 
---
Read more:
Looming problems add urgency to government formation 
---
Fianna Fáil finance spokesperson Michael McGrath said the leaders of his party and Fine Gael were working together to provide a response to the Green Party's letter. 
He said the reply would be positive in nature and many of the issues that have been raised are important ones for Fianna Fáil. 
Mr McGrath said he hopes a meeting can take place between the leaders in the coming days. 
Fine Gael's Helen McEntee said her party also wanted to talk to independent TDs about government formation. She also said Fine Gael had shown it wanted to be ambitious on climate change. 
Sinn Féin's Pearse Doherty accused Fianna Fáil and Fine Gael of playing "playground politics" by not talking to Sinn Féin. 
He said that it left Ireland in a vulnerable situation where there is no government and legislation cannot be passed. 
He said this was not the change the people voted for. Mr Doherty said he accepted another general election could not take place due to social distancing.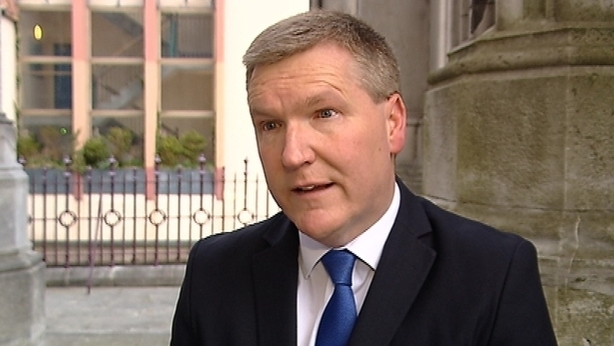 Responding, Mr McGrath said Fianna Fáil does not see sufficient common ground with Sinn Féin when it comes to drafting a programme for government. 
He said it is open to Sinn Féin to put forward a draft programme for government before the Dáil and then let the elected members decide who they want to be in Government. 
Independent TD Denis Naughten welcomed the fact that the Green Party had published its 17 points, saying it was a positive step. 
Mr Naughten said he was looking forward to seeing a response from Fianna Fáil and Fine Gael. 
He said we need to design a new economy that involves people not having to drive to work. 
Social Democrats seeks clarity on financial projections
The Social Democrats party has written to the leaders of Fianna Fáil and Fine Gael asking for further clarity on the financial projections outlined in their Joint Framework document. 
In a letter, the party said the economic projections outlined by the Minister for Finance Paschal Donohoe on Tuesday raised further questions. 
Mr Donohoe published the Government's latest Stability Programme Update, which sets out its economic and fiscal projections for the year.
The Social Democrats has a list of nine questions it wants answered – including how proposals to increase spending on public services will be financed when the projections outlined by Minister Donohoe on Tuesday do not show any changes to the 2020 or 2021 Budget.
The party asks how proposals to increase spending on Sláintecare, public housing, public transport, and income supports will be financed. 
Co-leader of the Social Democrats Catherine Murphy said: "If we are going to build public services we have to rebuild our public health system, we have to build a more sustainable transport system and we have to deliver housing as some key priorities.
"That is going to cost on the capital and the current side and that does not appear to be factored in to 2021 neither does aspirations on income supports on the social welfare side."