Indio Councilmember Waymond Fermon found Francisco "Chuy", the 17-year-old street vendor featured in a video that went viral on social media earlier this week.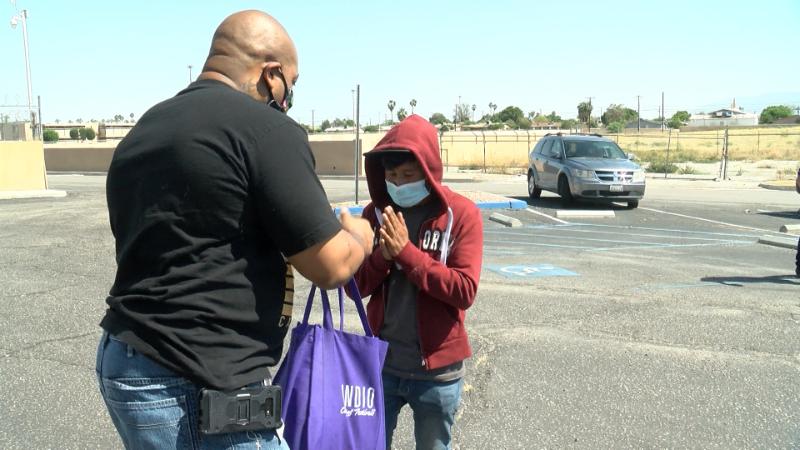 Francisco was featured in a video that spread around social media showing the aftermath of a woman verbally harassing Francisco along Avenue 42 on the border of Indio & Bermuda Dunes on Saturday.
"I don't want him in my neighborhood. You go to Indian Wells, you don't see lawlessness," the woman told the passerbys.
The passerbys responded saying it doesn't matter and instead call the police.
The woman then says, "It does matter, it brings down the quality of life."
The passebys later wrote, on a GoFundMe page for him, that they always see the young man selling goods on that street, typically with a smile on his face despite the blistering heat.
Councilman Fermon saw the video and put out a call for help from the community in locating Francisco. Fermon credits Omar Dominguez, owner of familiagrafix, for working tirelessly over several hours to find Francisco.
A group of residents met at the Indio Grandmarket Place Friday afternoon to show him support.
According to Fermon, Francisco is a 17-year-old who recently lost his father and is working to support his mother and a sibling. He lives in Los Angeles and travels to the valley with his coworkers to work.
"I'm excited, ecstatic that we could turn a negative into something positive," Fermon said. "This young man is going through some troubling times right now in his life and I'm glad that we could get him some hope right now."
Dominguez says several residents bought flowers from Francisco, selling out three times on Friday.
"We're here for him, we're just trying to help out. It could've been him.
In addition, CV Food Truck CEO Erick Becerril is working with Francisco to ensure he has all the proper permits to be able to sell goods.
Fermon says Francisco will be back at Indio Grand Marketplace on Saturday if you would like to buy flowers or donate.