When she posted a silly photo of her daughter's recent baptism on Facebook, Taylor Deaton never expected it to go viral.
"I never expected that to happen," she told The News. "Know that whatever you post on the internet is forever."
Her photo, which depicts her priest, Father Steve Klasek, pointing a small squirt gun at her daughter, Jade, over a baptismal font, has attracted more than a million likes on Twitter after being turned into a meme.
Deaton said she had seen a similar photo online prior to her daughter's baptism at St. Paul the Apostle Catholic Church, and asked her priest if he would be willing to stage a similar photo following Jade's baptism.
"I just thought it was a cute way to capture what's going on," she said of the idea. She also thought it would be a funny photo to prank Jade with when she grew up.
"I wanted to show my daughter, 'This is how you were baptized,'" she said with a laugh.
Despite the online fervor, Deaton said Jade was baptized properly, as Catholic custom dictates, albeit with a few COVID-19-related alterations. Instead of performing the baptism alongside a traditional Catholic mass, Jade's baptism was a private ceremony for family only.
The photo was staged after the official ceremony was over. According to Deaton, the only water Jade came into contact with was of a divine nature.
The only victim of Klasek's squirt gun was Deaton's husband, Stephen.
"I gave [Klasek] permission to squirt my husband so he could have a little fun with it after taking the photo," Deaton said. "That was funny."
Even several days later, Deaton said her phone is still pinging left and right with notifications of more people commenting on her photo, which she admitted was made public on Facebook accidentally.
"When I posted it, it was more for my friends and family to see," she said, "but I guess I made it public, so people started sharing it."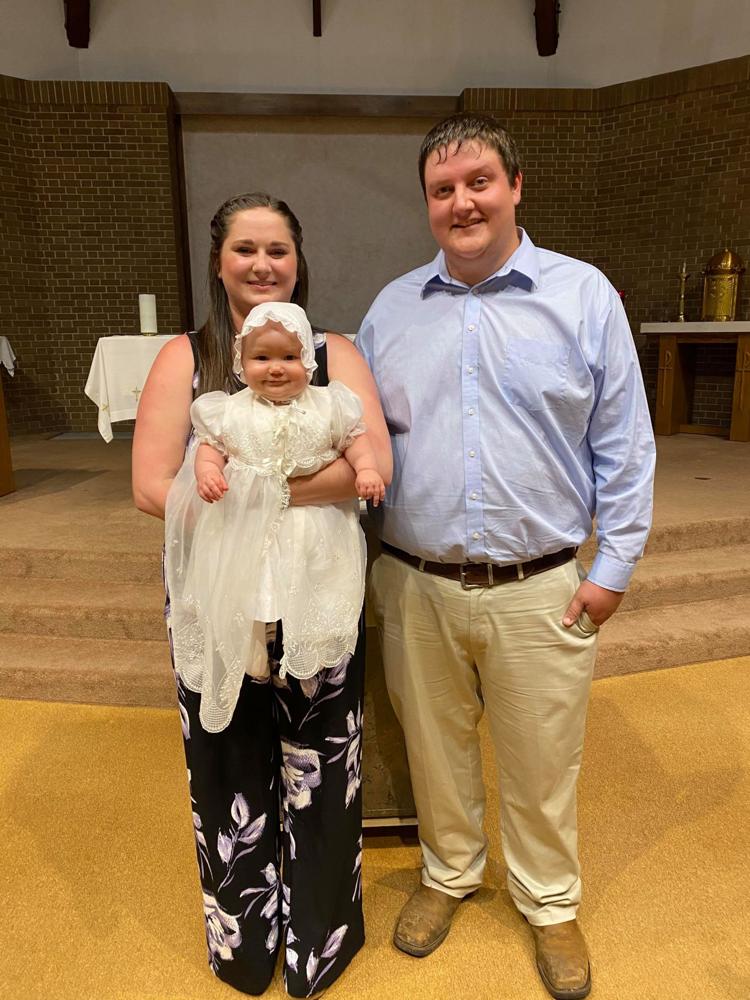 As with any viral sensation, people all over the country have made their opinions on the photo known, but Deaton said she tries not to take the negativity to heart.
Rather, she tries to focus on the way those closest to her feel about the photo.
"Everyone in town loved it, and they loved that Father Klasek was willing to do that," she said. "He thought it was funny. He has a good sense of humor."
Deaton said it was a little fun to go viral, but the sheer amount of comments from strangers has been "kind of crazy."
Still, the photo was a fun way to showcase the interesting ways families cope with the ongoing pandemic.
For her part, Deaton said she enjoyed having her daughter's baptism be a small, private ceremony. If it hadn't been, she doesn't think she would have been able to stage that picture.
"We got to have fun with it, which I don't think we would have been able to do after an actual mass," she said. "I think people would have looked at us funny."
And no, Deaton assured everyone, the water pistol did not have Holy Water in it – only regular tap water.
Erin McCullough may be reached at [email protected].