Boris Johnson has escaped unhurt after a security vehicle collided with the back of the car he was travelling in as he left parliament after prime minister's questions.
Video of the incident, on Wednesday, showed the grey Jaguar carrying Johnson pull out of the main gates of parliament as part of a convoy, including police motorcycles.
As it left, a man believed to be part of a protest by Kurdish activists ran towards the prime minister's car. Even though the man was pulled back by a police officer on foot, the car stopped suddenly, and a black Range Rover that was next in the convoy failed to stop in time.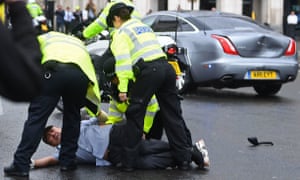 Pictures showed the Jaguar with a dent in the rear. The convoy immediately set off again.
No 10 confirmed Johnson had been in the damaged car. A spokesman said: "Yes, that was the PM's car. I think the video speaks for itself as to what happened. No reports of anybody being injured."
A Metropolitan police statement said: "At approximately 14:30 hrs today, 17 June, two police vehicles were involved in a collision in Parliament Square. The police vehicles were part of a security movement. A pedestrian is reported to have stepped on to the road, causing the vehicles to suddenly stop, which has led to two of the vehicles in the convoy being involved in a damage-only collision.
"No injuries have been reported. A man, no further details at this time, was arrested at the scene for offences under Section 5 of the Public Order Act and for obstructing the highway."
Will Geddes, the managing director of close protection specialists ICP Group, said that Johnson's security team had been forced to make "a split-second assessment" of the risk to the prime minister during the incident.
"There clearly wasn't a strong enough cordon when the prime minister was coming out but people do get through. If it had been a suicide bomber then the police cyclist and the driver of the PM's Jag would have to have decided to have driven through.
"But it's a better outcome that there's a dent in the PM's car rather than a protester ending up nose down in the street because they've been knocked over."
Johnson's car is an armoured Jaguar XJ Sentinel, which is popular with wealthy Russians because of its discreet design. It has bomb-proof doors, bullet-proof glass and armour plating in the floor to protect from blasts underneath.
Close protection officers would probably have been in the black Range Rover that crashed into the prime minister's car. "Normally it is a cardinal sin to crash into another car in this kind of situation, but I think there are mitigating circumstances this time," Geddes added.