Journalist Leta Powell Drake dominated the '70s through the '90s with her electrifying celebrity interviews. Decades later, she recently went viral after clips of her interviews were shared on Twitter.
Decades ago, Leta Powell Drake lit up screens with her candor and unconventional interview questions. Recently, a Twitter user went viral after they took a trip down memory lane with clips of Drake's old interviews. The tweet read:
"Currently obsessed with Leta Powell Drake, the greatest interviewer of all time."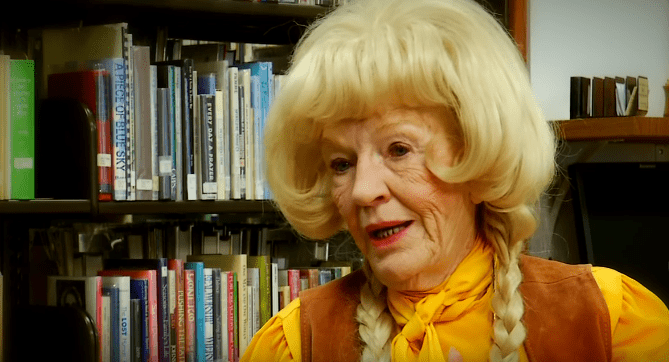 The tweet shared the most famous and exciting of Drake's interviews from the late '70s to the early '80s when she interviewed several celebrities on the local TV station, KOLN's press junket.
From telling actor Gene Hackman that he had done some brilliant pictures as well as some stinkers to asking Tom Hanks how he was able to kiss underwater in "Splash" without bubbles coming out of his nose and mouth. Drake always left her celebrity guests staring wide-eyed at the camera.
She's still alive! And still hilarious. Someone get Leta her own show! https://t.co/8e7uza8WL6

— Peter Holley (@peterjholley) November 14, 2020
She also once asked Elliott Goud if he regretted not going into the series "Mash." The broadcaster shocked the actor when he said he did not regret it by telling him that the series had made a fortune without him.
The tweet that took people back to those days went viral in just days, and suddenly, the now-82-year-old has returned to the spotlight.
The journalist admitted that some of her guests did end up getting uncomfortable.
Currently obsessed with Leta Powell Drake, the greatest interviewer of all time. pic.twitter.com/3oCYAd9vZD

— John Frankensteiner (@JFrankensteiner) November 12, 2020
In the world of celebrity interviews, soft, surface questions were the order of the day; Drake stood out like a fiery sore thumb. Typical boring questions were not her style.
After learning about her new-found return to the spotlight, the 82-year-old opened up about how she felt about it. She exclusively said to TODAY:
"I'm delighted that people want to go back into the past and the great characters that we have in television, many of whom are not with us any longer."
Behold the raw, celebrity-bewildering power of Nebraska TV legend Leta Powell Drake https://t.co/ZhPbhiWVD2 pic.twitter.com/UaC34nRb1c

— The A.V. Club (@TheAVClub) November 13, 2020
She was also delighted to have that history and added that she was happy that she did those interviews and saved the tapes. The long-retired broadcaster-turned-television producer, who now resides in Lincoln, recalled the unexpected way those interviews and her reputation came about.
Although she made them seem off the bat, a lot of work went into it all. Drake shared that she did a lot of research about whoever she was interviewing, adding that all of her confident and bold questions were always backed with knowledge.
"It's just amazing, this whole thing," Leta Powell Drake said of her newfound online fame. "I'm glad people are seeing them. I think they like to look at the stars, who are all older now or dead." https://t.co/1KD8SkKWcG

— Lincoln Journal Star (@JournalStarNews) November 14, 2020
The journalist admitted that some of her guests did end up getting uncomfortable, but as someone who knew her onions, Drake somehow knew how to get around the awkwardness.
Panache, humor, enthusiasm, and a Mike Wallace-like bluntness were what drew people to Drake's unconventional questions. It delights her to know people still appreciate her work and the legacy she built for herself.